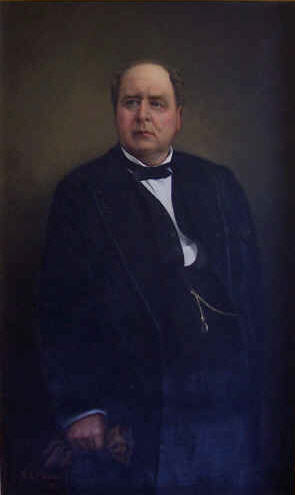 Painting of Nehemiah Gibson by Nelson A. Primus - 1883
1. Nehemiah Gibson was born in Ashby, Suffolk, Massachusetts on 16 April 1816[1] and died in Boston, Suffolk, Massachusetts on 25 April 1882.[2] He was the son of Stephen and Elizabeth (Maynard) Gibson who had 12 children.[3] He marrired Lucy Hubbard Paine/Payne on 9 March 1843 in Boston, Suffolk, Massachusetts.[4] Lucy was born on 4 October 1813, in Center Harbor, Belknap, New Hampshire [5] and died on 21 April 1878, in Boston, Suffolk, Massachusetts.[6] She was the daughter of William and Hannah (Rogers) Paine.[7] After the death of Lucy he married Ann B. (Pierce) Magoun on 25 June 1879.[8]

Children of Nehemiah and Lucy are:

i. Charles N. Gibson was born 16 Jan 1844 and died on 5 Aug 1844 of "dropsy on the brain".[9]


ii. Susan "Susie" Haynes Gibson was born on 23 Jan 1846 in Cambridge, Massachusetts and died on 10 Feb 1885 in Boston, Massachusetts. Susie married Elliot Ritchie on 9 June 1862 in Keene, Cheshire New Hampshire. Elliot was born on 24 July 1841 in Boston, Suffolk, Massachusetts and died on was the son of James and Caroline (Richards) Ritchie.


iii. Charles Earl Gibson was born on 9 Sep 1852 in Boston, Suffolk, Massachusetts and died in New York, Manhattan, New York on 13 April 1913. He married Loretta "Carrie" Varney on 9 June 1874. Carrie was the daughter of Moses C. and Loretta (Payne) Varney.


Nehemiah resided in Ashby for several years learning the carpenter's trade. From there he moved to Concord, Massachusetts where he finished his trade. Later he spent time in Cambridgeport and finally came to Boston in 1837 where he resided until his death on 25 April 1882.

While in East Boston Nehemiah was heavily involved in the wood and coal business through his business the N. Gibson & Company which was located on Lewis Street. Early in his connection with this business he was associated with Mr. Thomas French on Marginal street, and later with Mr. Alonzo Crosby; during the latter connection his plan of business was on a large number of government transports several of which he has altered to sailing vessels which he has engaged in the merchant service.

Mr. Gibson was for several years president of the Maverick National Bank, succeeding the late Samuel Hall, and at the time of his death a director; he was a member of the Board of Directors of East Boston Ferrie from April 1, 1870 to Jan. 1, 1872, and from May 1872 to May 1878, and its president from April 1, 1870 to January 1872.

Additionally, Nehemiah Gibson served on the Common Council for the City of Boston in 1857 and 1858 and he served on the Board of Aldermen for the City of Boston in 1861, 1870, 1871, 1873, and 1877.1 He also served one term in the Massachusetts House of Representatives as a Democrat in 1860.2 He ran for Mayor of Boston in 1876 but lost in the primaries.

The Mayorality - Boston Daily Globe - 28 November 1876

Nehemiah Gibson is buried at Mount Auburn Cemetery. He is located on Nightingale Path in Lot 4539. He is buried there along with his wife Lucy H. (Payne/Paine) Gibson and his children : Charles Nehemiah Gibson, Susan H. (Gibson) Ritchie and Charles Earl Gibson. Elliot Ritchie, husband of Susan H. Gibson is also buried there. Finally - Mary Jane Gibson is also buried there - she may be the second wife of Charles Earl Gibson.
Additional Information:
---
References:
[1] Nehemiah Gibson - Birth Record - Ashby Massachusetts | Nehemiah Gibson Birth Record Photocopy of Original - Ashby Mass | Nehemiah Gibson Obituary - East Boston Advocate 29 April 1882
[2] Nehemiah Gibson - Death Record - Massachusetts Archives
[3] John Gibson of Cambridge, Massachusetts and His Descendants 1634-1899 by Mehitable Calef Coppenhagen Wilson Published in 1900. pp.285-286.
[4] Marriage Record for Nehemiah Gibson and Lucy Hubbard Paine. Boston Marriages, 1800-1849; Vol.1. From Ancestry.com
[5] Birth Record for Lucy Hubbard Paine - Vital Records of Cambridge Massachusetts to the Year 1850, Volume 1. Births. Compiled by Thomas W. Baldwin member of NEHGS, Boston Mass. 1914. Page 288.
[6] Lucy Hubbard (Payne) Gibson - Massachusetts Archives Death Record | Lucy Hubbard (Payne) Gibson Obituary - East Boston Advocate 27 April | Lucy H. Gibson Death Card - Mount Auburn Cemetery1878
Other Sources:
Boston Municipal Register 1877

Massachusetts House of Representatives - Thanks to Michael Hurley.

Nehemiah Gibson Tax Records - 1858

Susan Haynes (Gibson) Ritchie Obituary - East Boston Advocate 14 February 1885

Susan Haynes (Gibson) Ritchie - Massachusetts Archives Death Record

Charles E. Gibson Death Card - Mount Auburn Cemetery